I don't have any new exciting pictures to share of my projects today (not to say I haven't been working hard, but you're probably tired of seeing pictures of
cut-up neckties
by now) so I've decided to write a product review instead.
I bought an iPad recently and I love it and use it all the time. But I found myself struggling to hold it comfortably so I started looking for some type of easel to put it on. I found lots of patterns and tutorials to make my own, but who's got the time, right? And none of the designs were quite what I was looking for.
Then I saw this one...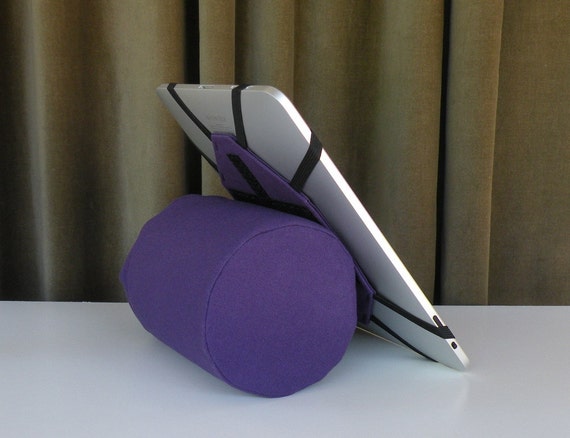 This is an iPad Pillow and it's from an Etsy shop called
ComfyiPad
. (picture by ComfyiPad). The design seemed perfect, so I took a chance and ordered one.
I LOVE MY COMFYIPAD!!!!
It consists of two parts - a harness that straps around the iPad and a cylindrical pillow. The two parts stick together with velcro and can be secured at any angle you want and will support the iPad either vertically or horizontally. What an ingenious design! (the pictures of the gray one are mine).
As you can see, it even works with the Smart Cover on my iPad! You just have to be careful how you position the elastic straps so they don't get caught in the hinge. But it works!
Mine is gray, but Brenda makes these in several different colors, and the elastic and velcro comes in white or black. For more information, visit her Etsy shop
here
, and to learn more about Brenda and her shop, be sure to check out her
About page
. I just love peeking inside peoples shops and seeing how they work - it's so interesting!
I leave mine on the coffee table, or my sewing table most of the time. Just flip over the Smart cover and it's ready to use. I can prop it up on my lap, or even on my belly if I'm lying on the couch! Works in almost any position. Thanks Brenda, for a great product! (and it's very reasonably priced too!)
Cheers!